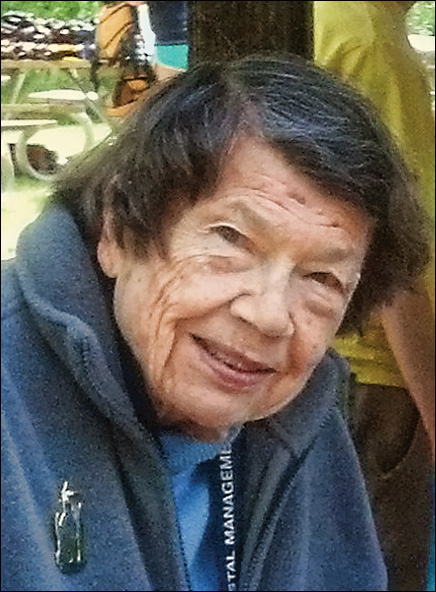 Edith Chase was an award-winning scientist, activist, and public official, who lived in Franklin Township, near Kent, Ohio, for a very long time. In 2014, at age 90, Edith retired to live near her daughter in Ithaca, New York. Edith died June 14, 2017.

Edith earned her Bachelor of Science degree in chemistry from Antioch College. She then returned to her family home in Minneapolis, and earned a Master of Science in chemistry at the University of Minnesota. Edith was employed as a chemist at Burk & Co. Pharmaceuticals in New Jersey, where she met and subsequently married Richard Chase. They moved to Franklin Township in 1958.

While raising two children, Edith Chase became active in the League of Women Voters of Kent and focused her scientific expertise on water quality public policy for the Cuyahoga River and Lake Erie. She was a founding member of the Kent Environmental Council in 1970, and continued to participate in the League of Women Voters of Kent for over fifty years. Edith Chase helped to establish and subsequently chaired the Lake Erie Basin policy conference of the League of Women Voters.

Recognized nationally, Edith Chase was a writer and editor of scientific papers published by the Hydrology Section of the United States Geological Survey, from 1979 to 1994. Recognized across Ohio, Edith was invited to become one of the founding members of the Coastal Resources Advisory Council when that Council was organized by the Ohio Department of Natural Resources in 1982, and served for several years as chair of that Council.

Acting locally, Edith was Franklin Township zoning inspector for fifteen years. In that office, in 1989, she created one of the first hydrology studies of the effects of oil drilling on groundwater and devised a method for monitoring well hydrology that was used by local governments until the Ohio General Assembly restricted that authority to the ODNR in 2004.

In 2005, the United States National Oceanic and Atmospheric Administration awarded to Edith Chase the Walter B. Jones Memorial Award for Coastal Steward of the Year. Edith Chase was awarded the Burning River Foundation's 2014 award for Outstanding Environmental Leader, an honor previously awarded to United States Senators Sherrod Brown and George Voinovich.